Local Links
External Links
Jazz & Beyond Carson City Music Festival

External Links
David Bugli's Profile
Create Your Badge
"Jazz and Beyond: Carson City Music Festival"
CCACC - Carson City Arts & Culture
FCCPR - Foundation for Carson City Parks & Recreation
Carson City Historical Society
Nevada State Division of Welfare and Supportive Services (my former day job)
David C. Bugli has a Bachelor of Science Degree in music education from Ithaca College, New York, where he studied composition for four years with Karel Husa. He has a Master of Music Degree from the University of Massachusetts. He has participated in Conductors Workshops presented by the American Symphony Orchestra League in San Francisco and St. Louis. In addition to conducting, he plays classical and jazz piano, tuba, and trombone, and he composes and arranges music.

David Bugli conducts the Carson City Symphony and plays piano in and leads the Mile High Jazz Band. For the Carson City Symphony, he arranges music that features guest artists on the Symphony's annual Holiday Treat and Pops Party concerts. In the past he organized the annual Reno TubaChristmas event and led the annual Capitol Tree Lighting on the steps of the Nevada State Capitol in Carson City. The latter featured performances by the Holiday Brass Ensemble (generally about two dozen players) and a group of about two hundred elementary school singers. He plays tuba in Zephyrus Brass Quintet, the Carson Valley Pops Orchestra, and the Ruby Mountain Symphony in Elko (before it folded). He taught class piano at Western Nevada College in Carson City from the fall of 2011 through the spring of 2015. He is the recipient of the 2007 Nevada Governor's Arts Award for Distinguished Service to the Arts.

David Bugli is also Secretary (and past President) of the Foundation for Carson City Parks and Recreation and is Secretary of the Carson City Historical Society.


David Bugli
---
Video Editing Page Has Been Added
March 2021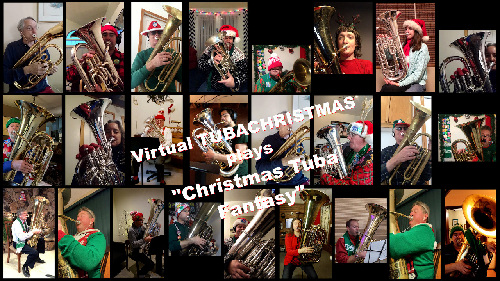 I have been doing a lot of video editing and Zoom meetings since the start of the COVID-19 pandemic in March 2020. A lot of my focus has been doing projects to involve musicians remotely. In the process, I have picked up some video editing skills. To see links to examples of my video work, go to the Video Work Page.
---
TubaChristmas 2020 Virtual Performance
Be Part of the Project

Reno, NV, has been presenting TUBACHRISTMAS performances since 1989. Because of the Coronavirus pandemic, we are not able to perform together in person this year. I have made an arrangement called "Christmas Tuba Fantasy" featuring five Christmas tunes for tuba-euphonium quartet (2 euphonium parts and 2 tuba parts) to be used in a virtual project. We invite musicians from the Reno area, other parts of the United States, and abroad to be involved. If you wish to participate, please send us a video recording you playing one (or two) of the four parts.
For further information, go to the Resource Page.
---
PurpleAir Widget Provides Air Quality Data at My Place
Click on "PurpleAir Map" for AQI map
Loading PurpleAir Widget...
Please feel free to contact me:

David C. Bugli
191 Heidi Circle
Carson City, NV 89701-6532
Phone: (775) 883-4154
Fax: (775) 883-4371
---
J.P. Meder Project - I have done research on J.P. Meder (John P. Meder). He was born Sept. 17, 1848 in Brunswick, Maine, and died March 1, 1908, in Carson City, Nev. He came to Carson City along with with his parents and other relatives in 1864 (1863?) when Nevada was still a territory. According to two of his obituaries in 1908, he was an accomplished musician, was involved in the theater in the Carson City, and served as organist of St. Peter's Episcopal Church in Carson City. It appears his primary business was as Freight Agent of the Virginia and Truckee Railroad in Carson City, but he also served as manager of the Carson City Opera House and directed amateur theater productions. I arranged his "Nevada State March" and "Hank Monk Schottish," and they were performed by the Carson City Symphony on June 18, 2006.
---
Events
I am personally involved in a number of performances in and around Carson City and other parts of the State of Nevada, and you can check these out on my Performance schedule web page.
Send me your comments from this page.